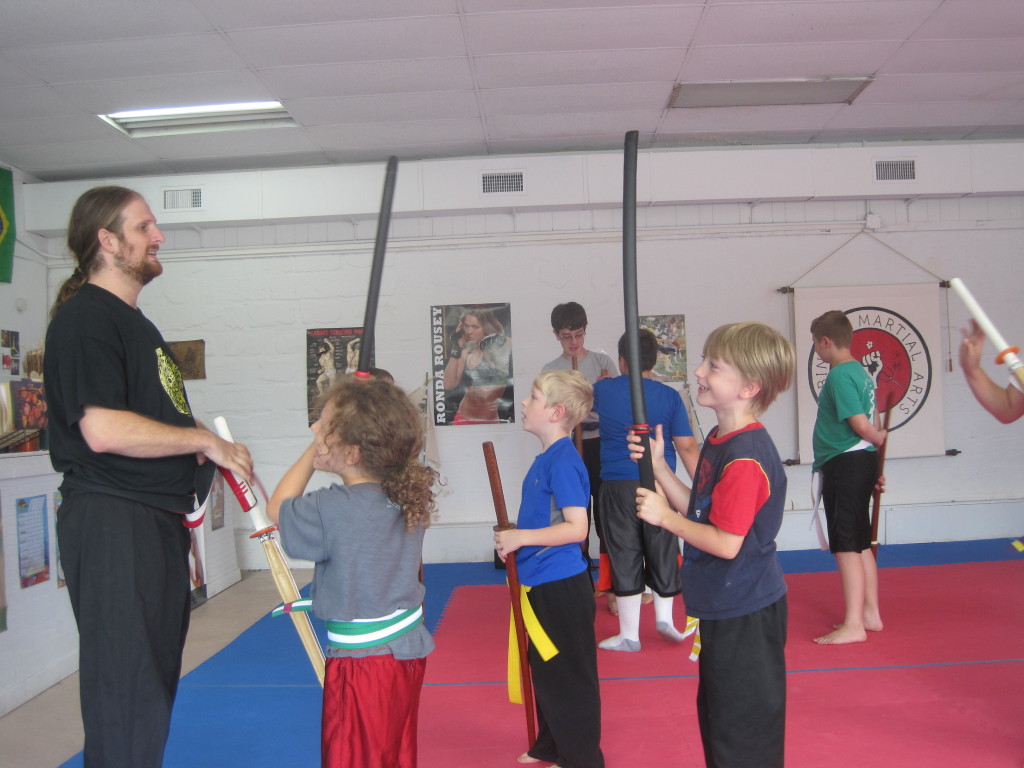 Thank you for signing up for Kickin' It Karate Camp! We are so excited for a fun week of training and camaraderie. Skills grow, friendships are forged and memories to last a lifetime are created.
TIMES
7:30 – 8:00 am.

Dropoff.  Kids can bring breakfast to eat at the dojo if they need to. Bow in and activities will start promptly at 8am.

Noon – 12:15pm.

Pickup. Camp is over at noon, with pick up by 12:15 pm (yoga will start on Monday right after camp).
Camp is MONDAY thru THURSDAY (four days)
CRITICAL INFO
Food & Water

– Send a small snack (protein bars, nuts or fruit are great options) and a bottle of water with your child. Every day will include a break, when fuel and hydration will be important. We'll have a snack pack including a protein bar and bottle of water for sale for $2 if you forget!

Uniform

– Gi pants and belt are required, just as for regular class.

Painting Clothes

– Monday will start with the painting of team flags. Kids are closely supervised during this activity, but we still ask that parents send a change of clothes so that gi pants don't get paint on them. There will be a chance to change in and out.

Rest

– This is a week of hard training, so expect your kids to be exhausted. Most parents report that their kids are sleeping right after dinner during camp week.

Weapons

– Training weapons for the week will be provided, however you're free to purchase a personal weapon. Ask Sensei or Kyoshi for details as it's important to get the right weapon for safety – weapons that are not approved by the RMA instructional staff could cause serious injury.

Thursday competition

– Kids will participate in a end of the week celebration on Thursday with high kicking contests, sparring rounds, kata performances and more. Times will be announced midweek and parents are welcome to attend.

Camp tshirts

– These are distributed on Thursday morning for kids to wear for pictures and fun on the last day of camp!
Yay for camp! We're so excited!