Martial arts is about so much more than just punches and kicks. It's about more than getting onto the mats, more than facing an opponent in a sparring match. Martial arts is about life.
Lady Budo
Sarah Kosub, who we also knew as Lady Budo, was the kind of martial artist that inspired the people who met her. That doesn't mean just the people who trained with her, it also means the people who she interacted with outside of the dojo. Sarah was one of those lights in the world.
At RMA Karate, we remember first training with Sarah a dozen years ago – meeting with the fantastic martial artists of Kasumi Mountain Martial Arts out on the Quad at UNC Asheville to roll. Her young daughter sat contentedly in her carrier, cooing while Sensei Sean Kennedy (and Sarah's partner) led us through the challenging but rewarding movements of Ninjutsu.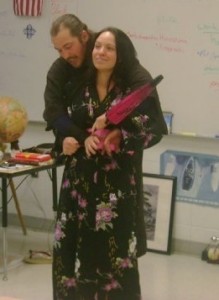 A True Martial Artist
When we talk about the qualities of a martial artist, the first thing that we think about is physical prowess. Lady Budo had that to spare. Though she was little at just five feet tall, she was mighty fierce – anyone who ever stepped onto the mats with her knew that. Sarah could go toe-to-toe with anyone and in moments have them thrown through the air. She was a talented fighter who could use almost anything as a weapon, from a belt to a cane to hair sticks.
Rolling with Sarah was a master class for anyone who had the privilege to do so.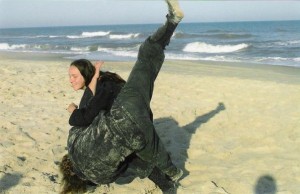 We remember her first degree black belt test, taken when she was heavily pregnant with her daughter. And rocked it. Sarah believed that it was important that martial arts be applicable in the real world, so she never let the natural rhythm of her life interrupt her training. That went for her training after her daughter was born as well. Sarah regularly honed her craft while holding her little girl, as real self defense for real women could easily mean protecting a small child. Her children were always her top priority, and she worked constantly to develop new an innovative techniques to protect them.
Sarah continued to train as her cancer progressed, never for a moment letting up on her fire for martial arts. All along the way she showed us what it meant to practice this art.
These videos from Kasumi Mountain Martial Arts were taken six months into her cancer diagnosis. It's truly fantastic to see her! Notice how precise and focused her movements are, all while maintaining a fluidity that allows her to adapt to the attack as it progresses.
And here she is demonstrating how to deal with an attack from behind. Truly incredible.

Celebrating Sarah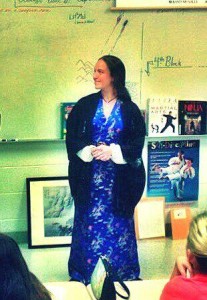 Lady Budo had faced real life fights in life that few of us can imagine, long before the battle that she fought against breast cancer. Her spirit was that of a warrior and a mother, a friend and a confidant. She was generous with her time and open with her affection. Sarah cared about everyone that she met, always believing in their possibilities and there to back them up with help that they needed to get there. Her beauty radiated from within. She was the kind of martial artist, the kind of person that we all aspire to be.
Sarah continues to be an inspiration to us even today, seven years since she lost her battle against breast cancer.
Thank you Lady Budo, for your life and your legacy. We at RMA Karate will not forget you, and we will keep fighting.